Diane A. Vidal, Esq.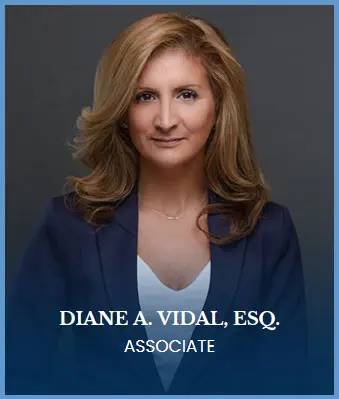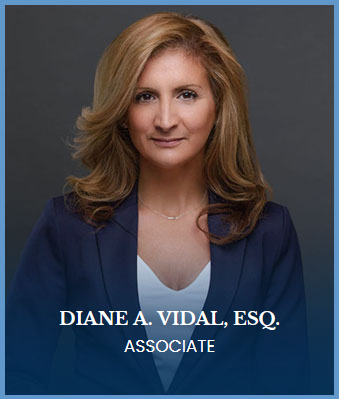 Mrs. Vidal graduated with honors from Rutgers University earning a Bachelor of Arts in criminal justice and a minor in psychology. Mrs. Vidal graduated cum laude from Seton Hall University School of Law which was ranked 59th best law school in the nation by US News and World Report in 2018. She was an associate editor of the Seton Hall Legislative Bureau Journal during her last two years of law school where she wrote and edited publications regarding legislative reform.
Recipient of a Juris Doctor in 2007, Mrs. Vidal is licensed to practice law in three states: New Jersey, New York, and Florida. In 2007, Mrs. Vidal was admitted to the Bar in New Jersey and the New Jersey's Appellate Division while also being admitted to practice law in New York State Courts. In May of 2018, Mrs. Vidal was admitted to practice law in the State of Florida.
Mrs. Vidal's legal career commenced over a decade ago as a paralegal while she worked her way through law school. She worked alongside former municipal court judge, Nelson C. Monteiro, Esq., where she learned many areas of the law including criminal, immigration, civil litigation, estate planning and probate, family law, and real estate. She has over a decade of experience in Family Law as she worked as an attorney for Iandoli & Edens, LLC since 2011. She is an associate attorney for Chiumento Law in Florida while continuing to serve as counsel to the Edens Law Group, LLC.
Having found her passion in law and determined to help others with the American legal system, Mrs. Vidal has authored numerous articles, written frequent legal briefs, and published an e-book on family law litigation. Recipient of the New Jersey Super Lawyer, Rising Star award for 5 years in a row, she is well recognized and respected by her colleagues. She is fluent in Portuguese and Spanish and is a member of the Portuguese Club of Palm Coast, Florida. Diane Vidal currently serves as Secretary of the Flagler County Bar Association and serves as Director of Community Engagement for the Professional Women of Flagler County.